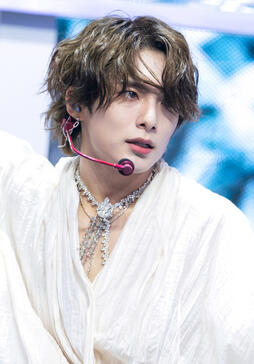 Vittoria!
My nickname is V/Vitt
My birthday is May 5th
I'm 15
They/She Pronouns
Queer
K-Pop Stan Since 2020
Likes
K-Pop, K-RNB, K-Indie, C-Pop, J-Pop, T-Pop, K-Dramas, C-Dramas, Anime, Thai Dramas, K-reality shows, and my moots! ♡
Dislikes
Rudeness, fanwars, fetishizers, and people who don't use trigger warnings.
Ults

A.C.E. - Jun, ATEEZ - Hongjoong, KARD - BM, Monsta X - Hyungwon, NU'EST - Ren, Pentagon - Hui, SEVENTEEN - Jeonghan, SHINee - Onew & Taemin, and TO1 - Chan!
Semi-Ults
AB6IX - Youngmin, Astro - JinJin, BDC - Seongjun, D1CE - Woodam, Day6 - Jae, Dreamcatcher - Dami, EXO - Suho, Got7 - Mark, NCT 127- Yuta, NCT Dream - Chenle, NCT U - Shotaro, Oneus - Leedo, Onewe - Harin & Dongmyeong, OnlyOneOf - Yoojung, Red Velvet - Irene, Stray Kids - Bang Chan & Seungmin, Super Junior - Leeteuk, The Boyz - Kevin, TVXQ - Max Changmin, VIXX - Hongbin, and WayV - Hendery!
Triggers
Abuse (Mental/Physical), Blood, Bullying, ED's/Weight Mentions, Sexual-assault, Self-harm, Insects, and Spiders.
DNI
Racist, homophobic, transphobic, hate on me for idols I stan, and if you don't use trigger warnings.